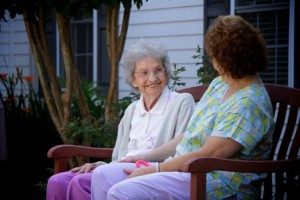 You may go through many changes as you age—you joins may get a little stiffer, your hormone levels may change, your hair might go gray. But that doesn't mean you are going to become a senior stereotype. You actually have a great opportunity to decide how you will age, and to make certain choices that can have you feeling decades younger.
This generation of retirees already feel and act younger than the seniors who came before them. They love to be active and involved and get the most out of retirement. Retirement communities offer more activities and opportunities than ever for these busy, fun-loving seniors, from active recreation and wellness to fun outings throughout the city.
There's also plenty of ways to be involved in the larger community, especially in Fort Oglethorpe and Chattanooga. Residents can volunteer with local organizations like La Paz De Dios, the Food Bank, Ronald McDonald House, or at Girls Inc. The Hunter Museum and Chattanooga Zoo also always need volunteers.
No matter your interests, there's always something interesting to participate in.Even if volunteering isn't your bag, there's so much to see and do. Think to all the things you missed out on while you were working and raising and family and pursue them now. Chattanooga has great fun festivals like Wine Over Water, the Tennessee Whiskey Festival, the Three Bridges Arts Festival, Riverbend, and more. Mise en Scenesters Film Club shows indie and cult classic movies, Track 29 brings in national musical acts on tour, and the Chattanooga Theater Centre puts on top quality plays and musicals.
Whatever you like to do, going after it with gusto is what helps you age well. Recall the pastimes and enthusiasm of your youth. The younger you think, the younger you'll feel, letting you take advantage of even more chances to see and explore with friends and family old and new.