Social connection improves physical health and mental and emotional well-being
It's so easy for seniors living on their own to lose connections to family and friends due to isolation and the kind of cognitive loss that comes with advanced age, making it more challenging to interact with other people.
At Rosewood of Fort Oglethorpe, we make it a point to keep our residents connected. We believe this matters greatly because so many studies demonstrate that social connectedness provides a boost to emotional well-being and the health of seniors.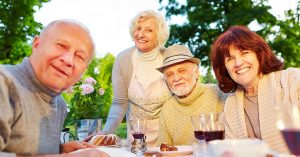 This is not just our opinion or conventional wisdom. It's scientifically documented. A Stanford University study shows that a lack of social connection proves a greater detriment to people of all ages than obesity, smoking, and high blood pressure.
Maintaining regular friendships, on the other hand, leads to:
A 50% increased chance of longevity
A strengthened immune system with less inflammation
Faster recovery from disease
The possibility of a lengthened life span
When we feel connected to others, we also experience lower levels of depression and anxiety. Seniors with strong social connections have higher self-esteem, are more cooperative (since they're more trusting), and feel greater empathy for other people.
Social connectedness benefits our physical well-being by generating a positive feedback loop. Sadly, the opposite also applies.
Documented Science: Strong Social Connection Leads to Increased Longevity
Seniors who spend most of their time alone are more likely to experience declines in psychological and physical health, as well as a higher probability of antisocial behavior, which only serves to further isolate them from the outside world.
Our Fort Oglethorpe Assisted Living community actively works to reduce loneliness in those most vulnerable to depression and anxiety. We know that an internal sense of connection can be nurtured and built by keeping active and communicating with others. It makes perfect sense that someone who is socially connected will feel at greater ease reaching out to others in stressful situations. A sense of belonging reduces susceptibility to negative emotions.
Research shows that the number of friends a senior counts as close matters less than the experience of connectedness in general. We all know the expression "alone in a crowd" to describe someone feeling lonely even in the company of large groups of people. Our goal is not simply to put peers together in spaces but to stimulate laughs and joy.
Keeping North Georgia Seniors Active Boosts Happiness and Health
At Rosewood, our residents bond over meals and during planned activities such as exercise time, church services, and sharing in entertainment. Our Chattanooga retirement home also sets the stage for family visits that are more enjoyable as families of residents enjoy the peace of mind that mom or dad are among friends and well cared for. Quality time sharing a meal together feels much more enjoyable when family experience none of the resentment or guilt that can come with trying to balance caregiving on their own with busy lifestyles.
Yes, connectedness and health matters greatly, and Rosewood follows the science of social connection as part of our work to give seniors the best of life during the Golden years – the freedom to no longer be burden with housework or yardwork combined with daily activities planned to strengthen the friendships that form when residents get settled in to their new home.
To learn more about the science of connectedness and associated health benefits, visit http://ccare.stanford.edu/uncategorized/connectedness-health-the-science-of-social-connection-infographic/
Copyright: stylephotographs / 123RF Stock Photo