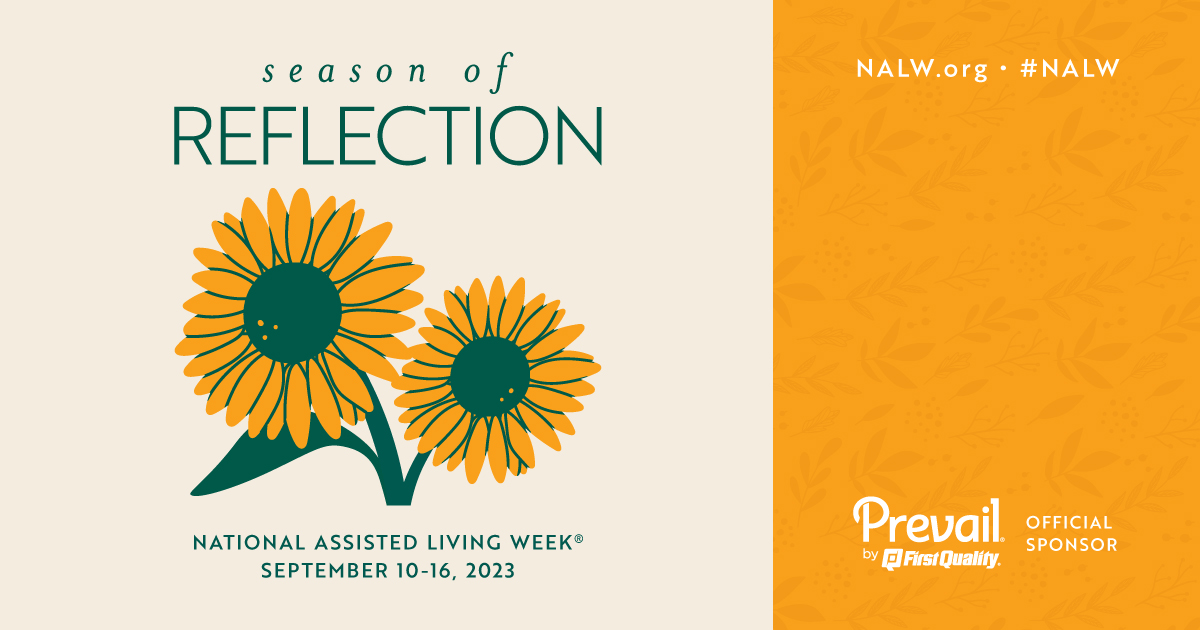 Sunshine Tours
Tuesdays & Thursdays at 1:00 pm
Every Tuesday and Thursday we will be leaving the community for our SUNSHINE TOURS! We are so glad that they are back in progress. Sometimes we get off the bus, sometimes we don't — it all depends on our destination! We are so glad to welcome our new bus driver, Cindy Coots. We are so glad to be able to offer this outing to our residents. The Life Enrichment department encourages everyone to sign up and tag along.
National Assisted Living Week
September 11th through the 15th
It is that time of year! Our annual National Assisted Living Week celebration is back. The theme for the week is "Season of Reflection." It is a time for us to reflect on those who work, live, serve and volunteer in our community. We will have a different department on whom we are celebrating each day. So many fun activities are in the works and we hope that you will make every effort to attend!
What's Cooking Wednesday
September 13th
The theme for this month's What's Cooking Wednesday is pirate! Ahoy Mateys! Climb aboard our ship of pirates here at Rosewood and see what Captain Conrad is cooking up for us. Rumor on the ship is that Captain Conrad may be cooking up some fish and chips. Join us for a time of food and fellowship. We promise we won't throw you overboard!
Lunch Outing to Applebee's
September 21st at 11:30 am
Join the Life Enrichment department as we take our monthly lunch outing to Applebee's. As always, the sign up sheet will be at the front desk. Our lunch outings are always a great time with wonderful food and fellowship. We encourage everyone who would like to sign up. If you plan on signing up, invite a friend as well!
End of Summer Ice Cream Social
September 22nd at 1:00 pm
The Life Enrichment department will be ending summer with some homemade vanilla ice cream. We will have many toppings for you to choose from! AL/ PC residents: you will enjoy your ice cream in the discovery center and all pathways residents will have ice cream as well. We want this to be a fun time with a nice, cool treat. Join us for this "sweet" end to summer!
Resident Council
September 25th at 3:30 pm
Join Life Enrichment for our monthly resident council meeting. We will do as we always do and begin directly after BINGO. New residents, this is a meeting for all Rosewood residents and is located in the Discovery Center. There is no set group of residents, we welcome everyone who lives here at Rosewood. This is a time to be informed of departmental updates, address concerns, off er suggestions and praise! Join so you are up to date on all things Rosewood.
Food Council
September 28th at 1:30 pm
Join Chef Conrad for his monthly food council meeting. The food council meeting is always located in the Discovery Center. New residents, you are also encouraged to come to this meeting as this is your time to offer suggestions, hear of menu changes, address any concerns or off er praise for the Food Service Department and to meet with Conrad directly. Just as with the resident council, there is no set group of people. Join Conrad to be up to date on your Food Service Department. FYI: food service related matters are not addressed at resident council.