Here at The Rosewood Fort Oglethorpe, it is our mission to provide the best assisted living community. We seek to build an inclusive community, a place that is truly a home for all of our residents. For us, there is no greater honor than to have the trust of our residents and their families. We take great pride in being able to provide the highest quality services to our families. The components below are things that are central to our mission of providing the best assisted living care possible.
Compassionate Care
Compassionate care must be at the heart of any assisted living community that hopes to better the lives of their residents and provide them with a living space that feels like a home. The people who work here at Rosewood have a true calling to help the residents who entrust them with their care. Our staff takes the time to get to know each resident, building a relationship based on genuine friendship and common interests. Every member of our staff has been selected because they show a true commitment to making the lives of our residents as fulfilling as possible. This commitment by our staff to put everything they have into the happiness of our residents has gone a long way in making us the premier choice for assisted living in the Fort Oglethorpe area.
Incredible Amenities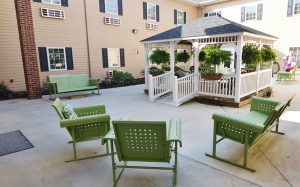 In selecting an assisted living community for yourself or for a loved one, it is important to consider the amenities that the community offers. Across the board, most senior living communities offer basic amenities such as furnished or unfurnished rooms, dietary plans, and nursing services, but we here at The Rosewood feel that offering even more perks to our residents is key in making sure that they are as happy and healthy as possible while under our care. To achieve this goal, some of our amenities include:
•Prompt, courteous maintenance staff
•Secure entry
•24-hour emergency response system
•Paid utilities (except telephone)
•Transportation to appointments, events and errands
•Chef prepared meals
•Outdoor recreation areas
•Beauty and barber shop
•Smoke free building
•Residents' council
•Daily social activities and events
•Assistance scheduling appointments
•Monitoring of general health and well being
•Memory Care
By offering as much as we can to our residents, we go the extra mile in making sure that their time spent with us is convenient and relaxing as possible. No one should feel like they don't have what they need in their own home and at The Rosewood at Fort Oglethorpe, we strive to build a home for all who live here.
Memory Care and Pathways
At the Rosewood, we intentionally seek out opportunities to get to know our residents on a personal level and make meaningful connections. We know their favorite things, their family, and use personal items or mementos of the past to decorate their entryways and living space. Our community evokes a feeling of home, safety, cleanliness, and comfort. Consistency, kindness, and reassurance is what you and your loved one can expect and rely upon. The Pathways program is designed to provide additional Memory Care assistance to residents with Alzheimer's and other memory-related disorders. Dedicated to working closely with you and your loved ones, our staff will work to create a care plan specific to each individual's need and provide an environment in which he or she will feel comfortable and thrive.
Fabulous Residents
In our opinion, the thing that truly makes an assisted living community feel like a community are the residents who call The Rosewood at Fort Oglethorpe home. With residents from all walks of life and a multitude of unique backgrounds, knowledge, and skills, we feel that the people who call The Rosewood home are what truly makes are communities feel like communities. When you choose The Rosewood for yourself or a loved one, you are choosing an active and engaging community with plenty of people ready to welcome new residents with open arms. Being able to offer an inviting community goes a long way in helping new residents adapt to their new surroundings and engage socially with their fellow neighbors.
Entertainment & Fun
Making sure that plenty of outings are planned is pivotal to happy residents, however, we also understand that in-house entertainment is just as important! For this reason, we plan multiple indoor activities every week to give residents a chance to have some fun, socialize, and see some excellent entertainment. Whether it is a crafting session or magic show, a movie night or a live musical guest, our staff works to make sure that entertainment and gatherings are never in short supply at The Rosewood. As with all of our activities, we encourage our residents to provide feedback and let us know of any activities that they are interested in making happen.
Adventurous Activities
In addition to making sure that our community offers everything that our residents could ever need, we put a lot of effort into making sure that multiple outings are planned each week, allowing our residents to get out into the community. Whether it is a trip to Battlefield Cinemas, a picnic on the grounds, or a shopping trip at the local supermarket, all of our residents are encouraged to participate in the activities that have been planned by The Rosewood staff. We take a lot of time to make sure that activities are planned well in advance so residents have time to sign up and, more importantly, we do our best to make sure that our activities are varied and interest specific. We highly encourage our residents to suggest outings that they would like to see happen and to give us feedback on past outings so that we can continually improve our activities calendar.
We fully believe our dedication to our residents makes us stand out as the premier leader in assisted living. If you would like to learn more about The Rosewood at Fort Oglethorpe or you are interested in scheduling a tour of our community, please get in touch with us today via our contact page or by giving us a call at 706.866.4884.