Do you remember these popular costumes from each era?
As fall begins to set in, there's always an undertone of excitement that accompanies it. Perhaps it's the thrill of slightly cooler temps? Maybe the anticipation of the string of holidays that parade across the last remaining months of the year? But no matter what it is that gets you in your feels for fall, we know the fun all starts with Halloween!
This holiday is a favorite of many, from the fun of dressing up, or seeing the costumes others piece together, to enjoying fall treats and our favorite candies. Does this season also conjure for you childhood memories of trick-or-treating, time with family and friends, and maybe even passing out candy to the little ones who rang your bell, shouting "trick or treat!" in their cutest disguises? However you like to celebrate this spooky season, we're excited to share it with each of you at the Rosewood.
Though it's always a fun time, the way we celebrate Halloween changes over time just like we do. From DIY costumes mom made from household items to watching your sweet grandchildren dress up as their favorite Disney characters, the way we do Halloween evolves right along with us. Costume trends have also evolved over the years, and we thought a round up of popular costumes from each decade would be a fun way to reminisce about this fall holiday.
1920s
Around this time trick or treating became more popular, and dressing up for this holiday was something that took its shape as commonplace. Knocking on doors and demanding treats from neighbors in your goulish getup in this time often included rowdy pranks and Halloween mischief. Popular costumes during this era included the Pierrot clown featuring dramatic black and white face paint, and other classic staples like ghosts, witches, gypsies, and farmers.
1930s
In the 1930s, things took a turn toward more store bought costumes over those handmade at home by mom. Ben Cooper, Inc. was a privately owned American corporation which produced and sold Halloween costumes from the late 1930s to the late 1980s. Becoming one of the largest costume manufacturers in the country, Ben Cooper worked with Disney producing iconic costumes we're sure some of you remember– primarily the beloved Mickey and Minnie Mouse!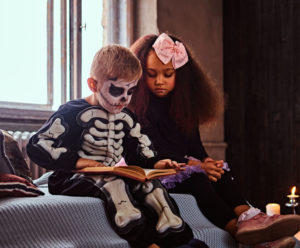 1940s
The 40s were all about spooky skeletons and cute clowns. We also started to see costumes that drew on bodysuits, fishnets, high heels, and heavy makeup.
1950s
Aloha! In the 1950s, an American love for the art of luaus was seen in Halloween costume choices. Grass skirts, leis, floral Hawaiian shirts, and beach party vibes a la Elvis films influenced costumes, and so did the ever popular western genre. In this time, western films were all the rage, so it was common to see cowboys costumes and iterations of the cowboys-and-indians theme. (Cultural appropriateness has come a long way since, friends.) Zorro, Davy Crockett, and Tarzan costumes are other popular choices you may recall from this time!
1960s
This era was all about superheroes! Superman, Spiderman, Catwoman, and Batgirl were all popular choices in the 60s, as well as other pop culture figures like the Beatles! Do you remember what your kids dressed up as during this groovy decade?
1970s
In the 70s, Star Wars took center stage! From a galaxy far far away, light sabers and Princess Leia hairdos were common Halloween choices. Other hits from this time period were Raggedy Ann and Andy, Charlie Brown, Snoopy, and the crew from Peanuts, and even Barbie and Ken. I bet we have a few residents who went as some of these favorites, or perhaps your kids did!
1980s
Ah, the 80s. The decade of big hair, bright colors, spandex, and more. We bet you remember some iconic costumes from this time which include Elvira, Hulk Hogan, and even the kind and cuddly Care Bears. Do you remember?
1990s
Go, go Power Rangers! The Mighty Morphin Power Rangers were wildly popular with kids and teens during the 90s, and if you didn't see these costumes around Halloween gatherings and neighborhoods during those years, you basically weren't looking. This was also a popular time for group costumes! Grab a few friends and choose a theme. It's more fun together, isn't it?
2000s
The 2000s were a pop culture bonanza, and that didn't end at Halloween. From Harry Potter costumes to Britney Spears and the Disney Channel's Hannah Montana, if it was on TV, it was in costume form as well come October 31st. When better to imitate your favorite celebrity than on All Hallow's Eve?
2010s
Do we have any Ana and Elsa friends in the house? Of course we do! The sisters from Disney's Frozen have to take the cake for Halloween costume popularity for this time frame. Other common costume selections include the cast of Game of Thrones, the throng from the Marvel Avengers films, and of course the kids from the popular Netflix series set in the 80's, Stranger Things.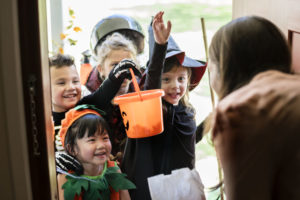 Costumes through the ages have changed and evolved, but the fun and the spirit of Halloween always remain. It's always fun to play dress up, to be someone new for an evening, and to remember fun times of Halloweens past! We hope you'll share your favorite Halloween memories with us at the Rosewood.