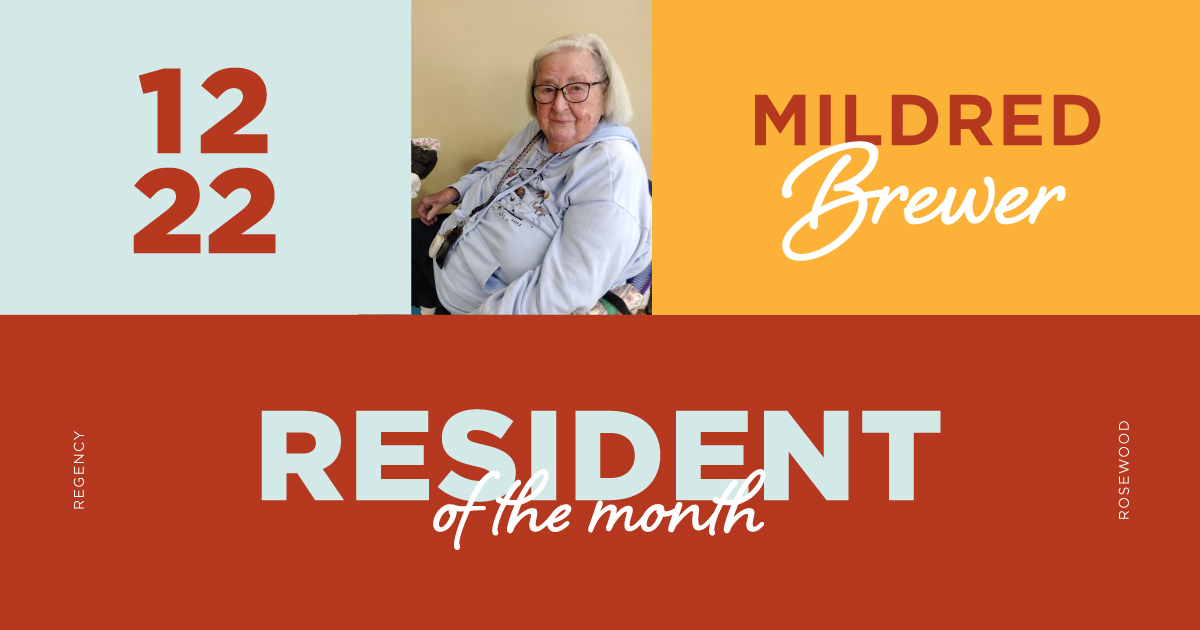 This month's resident spotlight is Mildred "Midge" Brewer. She has been at Rosewood for over two years and is a regular activities attendee. Midge was born and raised in Ducktown, Tenn. She is the youngest of six children. Her father was an undertaker in town and owned two funeral homes. Her mother was a stay-at-home mom, and Midge described as being a "wonderful mother."
Midge went to college at East Tennessee State College in Johnson City, Tenn., and "loved it." She majored in Education with a minor in Physical Education. Midge graduated college in 1956 and went right into teaching. She taught for 37 years both nationally and internationally. She taught 1st and 3rd grades. She started teaching and retired from teaching in Florida. She also taught internationally in both Japan and Germany.
Midge's hobbies include trying new food, visiting people, and riding her Jazzy around the Rosewood campus. Before coming to Rosewood, Midge enjoyed traveling and had a vast list of visited places: Bahamas, Japan, Germany, and Alaska just to name a few. Midge also has a huge love for Mickey Mouse. She is affectionately known as "Midgey Mouse" for this exact reason.
Midge has enjoyed her time at Rosewood by riding around, meeting new people, and enjoying all the friends she has made here. She also said, "I appreciate the ones who care for me. They all provide excellent care and deserve a big thank you!" Whether it's on her way to eat, participate in activities, or to visit friends, be sure to give Midge a warm hello.